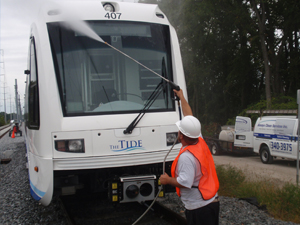 Established in 1993. Our Company is licensed and insured and we are competitive in pricing. We have two company vans, a box-truck, a trailer with a hot water machine with a tank capable of holding 325 gallons of water in addition we have a fire hydrant meter we rent from the city we can use in the event of limited or no water source. We use oil absorbent (Oil-Dri general) socks around storm drains before work is started.
Our staff includes qualified employees. They are efficiently trained in customer service, Knowledge of the industry and experience with all the production, equipment and products used in our industry.
Always Clean Services, Inc. provides comprehensive pressure cleaning services for exterior surfaces as well as vehicles. Our professional power washing service removes grime and mold from buildings, homes, apartments and condominiums, exterior surfaces. Always Clean Services, Inc. utilizes the latest pressure cleaning equipment, power washing techniques and commercial supplies to meet and exceed your high standards of cleanliness and overall appearance.
Current Clients
Old Dominion University
Kings Grant Landing Apartments
Lincoln Military Housing
Chartway Federal Credit union
Park Terrace Apartments
Greyhound Bus station
Legends at the Beach Apartments
Thalia Gardens Apartments
Dam Neck Square Apartments
River House Apartments
Children's Hospital Kings Daughters
KFC Ruby Tuesday's Restaurant
Woodberry Forest ApartmentsChurch's Chicken
Our Lady of Perpetual Help
The Tide
Farm Fresh
Lynnhaven Cove Apartments
Beamon's Mill TownhomesBest Distributing
William E. Wood
Thalhimer Reality
SL. Nusbaum Reality
Water Oaks Apartments
United Property AssociatesHilton Norfolk Airport
Car Spa
Rite Aid
Norfolk State University
Birdneck Village apartmentsPipers Landing Apartments
Southwinds Apartments
Nordstrom
University Apartments
Whispering Oaks Apartment Homes
Biltmore Commons
Colonial Arms Apartments
Runaway Bay Apartments
Independence Square Apartments
Brittany Place Apartments
Hampton Roads Transit
SPSA
PETA
Watermans crossing
Select Group Reality
Campus East Community Associaton
Weblin Place Apartments
Bay Pint Condominiums
Anytime Fitness
Mariners Cove Apartment Homes
Starbucks
Taco Bell
Lakeville Townhomes
Woodshire ApartmentsBelleville Harbour Apartments